You can make suggestions for the next character animation now. Tharja was the winner of the previous poll. The "pause" will be ending this week, at which point I'll post the stuff I did, and things will go back to normal.
Also, this isn't what I was referring to when I said I'd show off some screenshots of Noaika, but I already showed this in the comments so I may as well show it here. This is Noaika's original sprite size in the demo, compared to what it is now. (Should also clarify that this is a change that happened a long time ago, so it's not as though it's causing some unforeseen delay now.)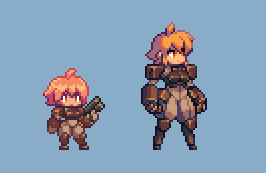 Future Patreon considerations
Also, I've been thinking about what it would be like to eventually do a Patreon funded game instead of animations. (Making a game and adding an enemy or some form of H-content each week.). It isn't something I plan on doing any time soon, but it's something I'm thinking about for the future nonetheless. Since I'll be financially better off once I release Noaika, it might just be something I do for fun since it wouldn't be bound by DLsite content rules, and I wouldn't have to worry about how it will sell because it'd be free.
That said, I'm mostly just trying to think about what the best option for such a game would be, given that it would have to be designed around the idea that it wouldn't have much content in the beginning. I assume it would have to be some sort of sand-box game, a simulator, arena based, or a fighting game. If it's not designed for a lack of content, then it would be little more than a slowly developed free game with a new playable version every week. (But hey, maybe that's what some people would want).
And before you ask; No, Patreon content is ever going to replace my normal games, so don't worry about that -__-
anyway, that's all for now.