One of the reasons why the weekly animations were getting boring, is because they consisted mostly of drawing a single high res image (like a CG), and then editing it a lot. It doesn't really feel like actual animation the way lower res animations does, and can be sort of "stiff". At best it looks like the Shantae animation (when I go all out with the details), but at it's worst it looks like the Hilda animation (where I stuck too much to using layers because I was using Aesprite for the first time). It's boring as hell when it gets too repetitive.
To make it more interesting (And hopefully higher quality in the future), I want to try and animate stuff frame by frame instead, Here's a short animation test I did (sorry about the missing details, I didn't think I'd be posting this so I don't have all parts of the initial rough)
Result wasn't great because I sort of rushed through the initial rough animation, since I was just doing it out of curiosity. In this one, the anatomy and movement of the body isn't really "logical" to say the least -__-
However, the head does serve as a good example of the difference between frame-by frame animation and the weekly animations I've done thus far. Whereas the weekly animations had mostly subtle shifting to create the illusion of depth, and rotation, with frame by frame I can do much more drastic movements.
Since this has at the very least proven to me that animating this way is viable, I'm going to try and redo one of the previous week's WIP animations this way. I'll spend more time on the initial rough, this time around, so we'll see how it turns out.
Ultimately, this would be a better skill to practice long-term, compared to the way I was doing weekly animations before. If it doesn't work, I'll finish the previous animations the way they were, and continue to do weekly animations until I have a developed weekly game idea, and a working engine for it.
Also for the heck of it, here are two style tests I did. I want to find a good style for animation. One that's a little stylized, and easy to work with. The one thing I know for sure is that I'm going to stay away from styles with a lot of lines.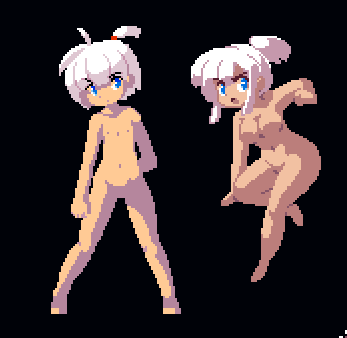 Edit: Oh, by the way, Curly Brace from Cave Story was the winner.