Eroico/Steam
Well, it's safe to say that Eroico has done pretty well on Steam.
I can't say how much it's made so far, however I can say that just in the first half month it made more than it did on DLsite in it's lifetime. That is, financially it was similar to releasing a new game. In the future I'll be releasing any games I make on Steam.
As for Kurovadis, I plan on releasing it on Steam and other platforms. However I'll probably pay someone to finish the CGs and make all the marketing stuff to avoid turning it into a time sink. Unlike Eroico, Kurovadis would not be an overhaul, and would not have many changes, outside of a lower price.
Patreon/Animations
That said, because I won't have to worry about money for a while, I plan on shutting down the Patreon.
The long-form animations were fun in the beginning, however the need to one-up the quality and do something that made each animation "worth it" sort of caused me to drag my feet after a while. Part of the problem is that if I didn't find an initial pose or concept I was happy with, it was difficult to commit to animating. It also delayed game development pretty often as I'd sit down to do a Patreon animation, but just wouldn't have the drive.
I'll be finishing the Hex Maniac animation (Yes, I still haven't gotten around to finishing that one). Because there won't be any more animations after that, I won't be charging Patrons for it, given that the current vote won't be used.
What's next/mods
I'll be moving out very soon. Hopefully living by myself will make me a bit more productive.
Other than that, my main goal is to just spend 100% of my time working on one of the in-progress games, finish it, and then get back to Noaika. Technically I could go back to Noaika now, but because I'm going to be porting Noaika to GM2, and because the game I'm working on now is meant to establish a bit of a cohesive framework, I want to finish it first so that I can integrate them all into Noaika.
Here and there I've also worked on things like this: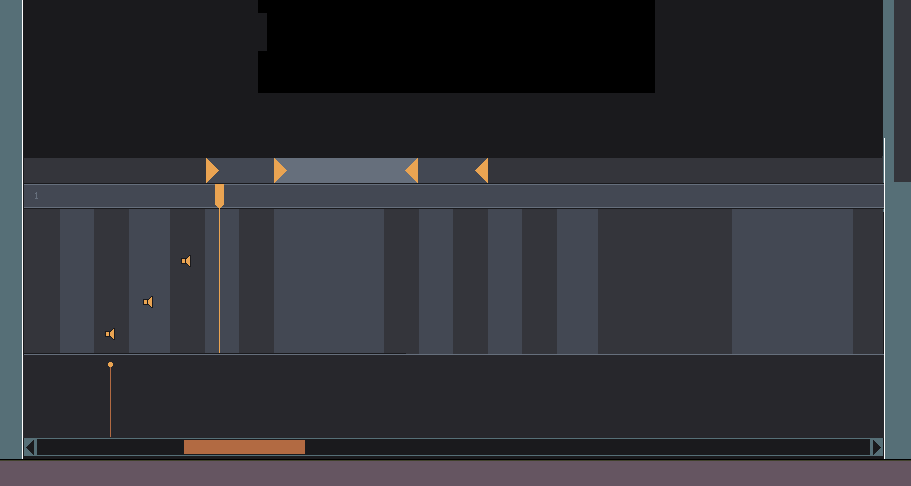 The above image is an editor that I'm making that will allow me to load an animation, load sound effects, and place the sounds on a timeline at different pitches/volume. I can also control frame timing, loop points, and a couple other things. Then at the end, I can export it as a .txt file used by the game to control everything. This cuts down on the time it takes to do sounds like the ones seen in Eroico, which required me to do everything in FL studio, export each sound, and then manually write down frame times.
This also got me thinking about the potential of mods, since editors could double as mod creation tools. It's something I'll have to consider more, however, since I don't "need" an editor for everything. I don't want to create a situation where I make a tool that's limited compared to pure GML, but that I feel compelled to use to avoid incompatibility with user mods, etc.
Unity
A while back, I briefly messed around in Unity for a day or two.
Unexpectedly, everything feels weirdly easy. Thing is; in GM, once you understand position, movement and basic variable stuff, you can kinda do anything. Likewise in Unity it feels like once you know some basic C#, position, and rotation, everything else falls into place quickly.
It's both reassuring and depressing, because on one hand I feel like I could do anything, and a lot of what I know about 2d mechanics carries over to some degree. On the other hand, it's depressing because it's so easy that it makes me wonder how the hell people make so many bad 3d games with Unity. I guess a lot of people go in trying to avoid programming as much as possible, and just rely on the asset store.
Either way, it's reassuring to for me to know that an H Zelda or Darksouls is not only possible, but honestly not that out of the question. (I'd start now, if I didn't have so much shit to do -__-)
That said, for 2d games, I don't think I'd ever use Unity instead of GM. While Unity is easier than I thought for 3d, it still has aspects that make it slower to work with for traditional simple 2d games (which is what all of my games are).
Boring health stuff
One of the things that was causing my a lot of delay has be sorted out "enough" that it doesn't actively affect me any more. However lately my shoulder has been giving me a lot of trouble, so I'm probably going to have to start focusing on exercising my arms more. I wanna make stuff forever, rather than having it cut short in 10 years.
I've purchased a smaller tablet, in the hopes that the smaller range of shoulder movement will be better. Until now, I've been using an Intuos large, which probably contributed to the shoulder problems. I went with a medium Huion, figuring it was worth a shot, so I'll probably do a review of sorts later.
If anybody has any suggestions that might help with shoulder pain, I'd be happy to hear it. I'll also be trying some eye tracking software, and now also use a mouse with my left hand to try and minimize the time using my shoulder, for example.
Anyhow, that's all for now.