I've decided to work on the mario/sonic style game. Once it's done, I'll go back to Noaika full-time. and stop the patreon animations.
To give some context, this game was more or less started because I made some sprites for fun, and added basic controls to test gamepad settings while I was working on Noaika. Stuff slowly got added after that whenever I was bored.
Once GMS2 came out, I used it as a guinea pig for testing the new Tile-based collisions, the benefit of which is that tiles dont slow down the game, which makes things like this possible with little performance impact.
https://i.gyazo.com/d32c8ddedbdd29bcce0f78ba7dca0da5.png
It also speeds up collisions quite a lot, which is why I'll be converting Noaika to GMS2 as a first order of buisness, after this game is done.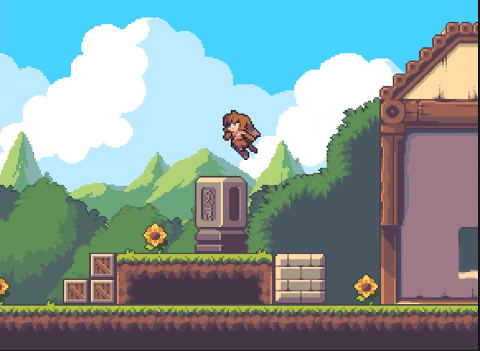 As for the game itself, as you can probably tell by the fact that I keep calling it mario/sonic, it's an attempt at a movement based game, with some inspiration taken from each. It will include an rpg style world map, with some metroidvania elements.
There have been a few snags here and there in finding the game's identity, which I guess is to be expected when you rip stuff from two entirely different games. Luckily I "think" I've mostly sorted those out for now. The two main problems were basically "what happens when you roll into an enemy" and "what the hell are coins going to be used for", both of which conveniently had the same solution which was "depends what item you have equipped".
At the moment, messing with moves is still an active process. Many enemies and level mechanics are done, however they will be changed as the player's moveset gets refined and added to. Being about movement, it's important that I have most of the elements complete before finalizing levels or even a demo.
Anyhow, that's all for now.