First of all, it's important to note that this is not a step by step tutorial on how to draw a character. Rather, it assumes that you've at least tried to draw a character, and acts as a guide on how to correct a lot of the problems you may encounter early on, when you're either new to pixel art or trying to improve.

If you've drawn a sprite before, it might be helpful to load it up and follow along. If you haven't, try doing something quick before we start.
That said, if you're a total beginner, then chances are your first sprite looks something like this,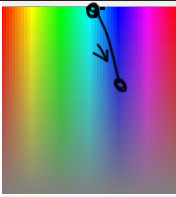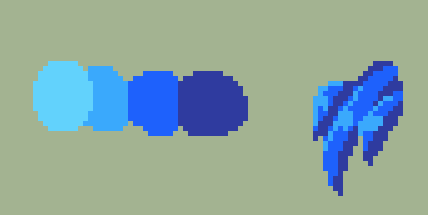 The cyan appears more saturated than the blue, preventing it from appearing washed out. Here's a few examples with other colors. You can do the same thing with any other color.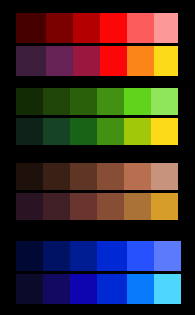 The basic rule of thumb is; shift the hue towards blue as the color get's darker, and shift the hue towards yellow as the color gets brighter. These "patterns" all follow the same scheme. Here's what the yellow to blue pattern above looks like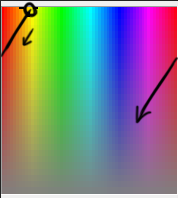 There are some exceptions to these rules. For example, because white and dark grey colors have no saturation, they have saturated shadows instead.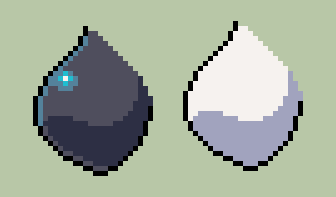 Finally, using everything I mentioned above, here's what the sprite looks like with colors that utilize hue and saturation shifting. (+ a minor change to the eyes)
And if you color lines next to highlights with shadow colors...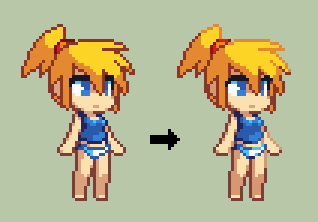 It's common to make the head too big, overestimating how much room you need for expressions. I learned the hard way that big heads = characters that can't stick their heads where you want them to. While this is a personal choice, it's something to keep in mind.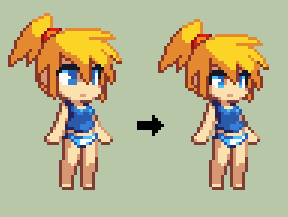 And that about wraps it up for now. Here's the final result.