Well, there's good news and there's bad news,
The bad news is that I spent a lot the time I was supposed be animating trying to get something sound related to work in Flash, as well as trying to get used to different pixel art programs. As a result I wasn't able to finish this week's animation in time. Instead, I'm going to have to push it back a day or two (won't be a paid post until then).
Here's a preview of it though. There will also be a simple background, since she's laying on a surface.
The good news is that I got some help from a programmer, and he was able to do what I needed in Flash. He wrote a script that I'll be able to re-use throughout the animations. (Now if only I got someone to do it for me BEFORE I wasted so much time trying myself -___-)
I also tried Aesprite, and it's meeting most of my "requirements" for pixel art. It's what I'll be using from now on for H-animation...animation. Though I may still do the base frame in GM for a while until I'm completely comfortable with it.
Here's this week's voting results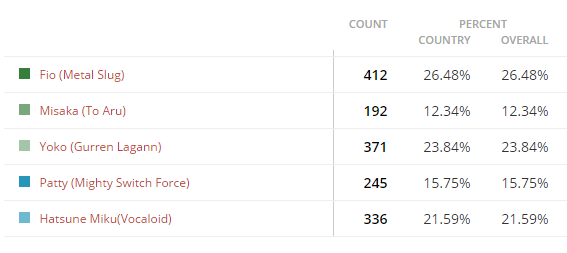 So I'll be animating Fio next week.
Gonna be a busy week -__-
Also, you can vote for the next character now. A reminder: Don't suggest the same character twice in a row. Only one character per suggestion so it's clear what people are voting for.